Guhen Kitaoka's Web Site
Welcome to the Web site introducing the Guhenian System (V. 10.7)!
This is the personal Web page of Guhen Kitaoka.

Guhen spent 3 years in the Sahara of North Africa during the early 80's, and the meditative desert experience and the anthropological encounter with the Arab world made him start his spiritual journey in search of the "Higher Self", or the "Larger Mind" of Gregory Bateson.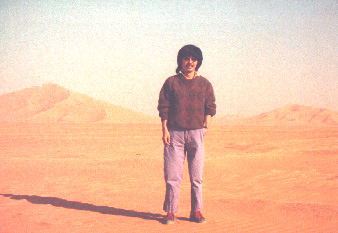 Guhen is an "Enhancing Development Trainer", and has been involved in the study of Eastern spirituality and Western communicational psychology for the last 20 years. His aim is to integrate ancient Eastern wisdom and the newest Western psychology, i.e., to seek the "authentic synthesis of the oldest in the East and the newest in the West".
Although Guhen Kitaoka's personal orientation has been towards Indian Vedanta (above all, Advaita Vedanta) and Neuro-linguistic Programming (NLP), his interest in wide areas including Tibetan Buddhism, Taoism, Zen, Aikido, Feldenkrais method, acupuncture, Patanjali, Shankaracharya, Vivekananda, Theosophy, Gurdjieff, Osho, Transpersonal Psychology, as well as his own existential experience in hypnosis, meditation, "chemically induced states of consciousness", and almost all Western modern psychotherapeutic schools, enables him to seek something fundamentally universal which underlies all of these "alternative wisdoms", rather than clinging dogmatically to his own claims.
This Web site is a kind of compendium of the "Guhenian system (or epistemology)", and introduces its overall picture. This site is Update Version 10.7. Guhen has also written a small paper entitled "NLP and Spirituality".
A full-version of his spiritual Web site in the form of a CD-ROM (a 108 page "cyberbook") has been published. The title of the CD-ROM book is "CYBERBOOK: An Integral Epistemology for Enlightenment", and you can obtain some information about the book by clicking here.
Also, Guhen is planning to publish "NLP and Spirituality" (the full version), and his e-mail correspondence with his proofreader in which major questions about the Cyberbook are asked and answered.
Further, Guhen Kitaoka's recent article "The Guhenian System as an Application of NLP to the Spiritual Field" can be downloaded from the Internet.
If you want to be kept posted about these publications, send your e-mail to guhen-cyber@creativity.co.uk.
This site introduces part of Guhen's Cyberbook. To go to the page "Table of Contents" of this site, click here.
You can visit a number of NLP related and other interesting Web sites on the Internet.


Photo design: Inro, Japanese 1850-1900, Courtesy of the V&A Picture Library, London.
Copyright ©1996-2000, by Guhen Kitaoka. All rights reserved internationally.
Last Updated: 22nd October 2004.